Products: RealityVision
Imagine how much more productive you and your teams could be if you could be in ten places at once? How about 100 locations or even 1,000? Imagine too if you were able to locate any member of your remote team and see what they are seeing in real time?
Now, what if anyone or everyone on your team could simultaneously view and collaborate about critical information appearing on a computer screen back at headquarters or live events at a remote location? Think about the whole new world of possibilities created by that real-time mobile collaboration.

With RealityVision® 3.3 Android and iOS users can now have secure PTT audio conversations with each other while viewing and sharing available video sources. This is an important hallmark in the evolution of the RealityVision platform as it firmly establishes a foundation for additional layers of powerful, complementary capabilities.

RealityVision turns equipment you may already own — smart phones, laptops, digital cameras and sensors — into a powerful video communications and collaboration network.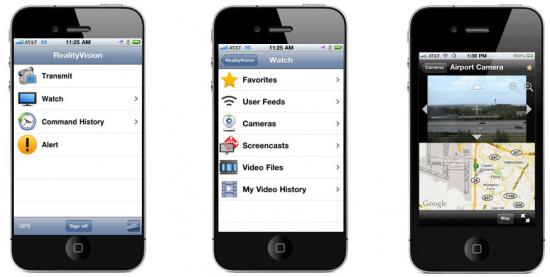 Example User Interface on iPhone
This revolutionary platform runs on off-the-shelf commercial hardware and your existing infrastructure. RealityVision works with virtually any wireless network — including cellular, tactical wireless and satellite systems. Endlessly expandable, and compatible with low-and-high-bandwidth networks, RealityVision scales easily as you grow and your needs change. Our patented technology and leading edge engineering team ensures you that as new hardware innovations become available, RealityVision is positioned to make the most of them.
Introducing RealityVision® 3.3
At Reality Mobile, our focus is on enabling real-time collaboration and real-world decision making while meeting enterprise needs for strict security, rigorous manageability and simultaneous information flows in multiple directions—often ad hoc and in emergency situations.

To accomplish that, the RealityVision platform was built on a principle of mobile video collaboration: incorporate many different visual sources and allow each enterprise to securely share the sources it wants to share with authorized users.

Our latest release leverages proven communications technology to give Android and iOS users a bundled Push-to-Talk (PTT) option for Android and iOS users supporting a seamless visual and audio experience among them.
At the heart of the system is a RealityVision server, which you can deploy safely behind your firewall. Right out of the box, this software platform can secure all communications — including streaming video — with the same SSL encryption used by major financial institutions. It even works within your existing VPN framework, including FIPS 140-2 compliant solutions. Installation and configuration are simple. You can be up and running in just a few hours.
Once the system is in place, a new world of possibilities awaits you. Corporate and government entities often use terms, such as "situational awareness" and "assembling a common operating picture," to express how complicated real-time operational decision-making can be. With RealityVision, it is easier to collaborate and make well-informed decisions.

Learn More +